TaskTime4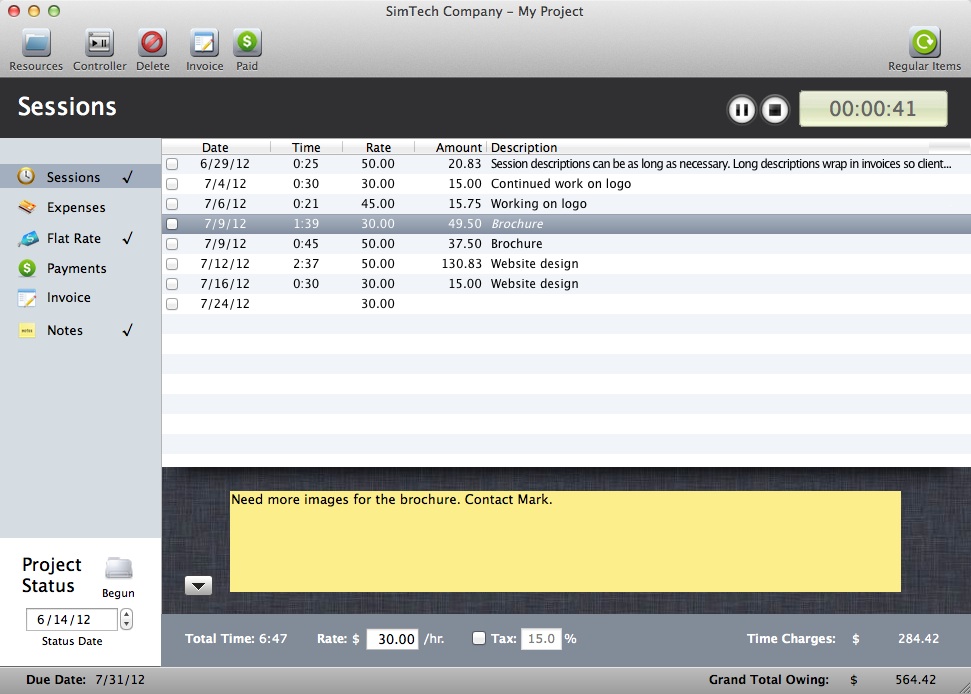 TaskTime4 is a reliable and versatile time tracking and billing solution.
With TaskTime4 you can track any number of clients and any number of projects for each client. Create invoices that can be emailed, printed, and saved to disk. Since you can have more than one project open at a time it is easy to switch between projects on the fly. Tracking expenses has never been easier.
Features Include:
Create clear, attractive, customized invoices and send with Apple Mail or Entourage
Include fixed rate items
Keep project specific notes of any length and detail.
Apply individual hourly rates to specific sessions
Set a separate currency symbol on a project-by-project basis or globally.
Track the status of each project.
Use the Project Manager to add, delete, rename, merge, and store projects.
Use the Client Manager to add, delete, and edit clients. (Import clients from Mail contacts)
Link documents, applications, folders, and web/email addresses to any project.
Minimize project windows to a small, floating timer controller window.
Set due dates for projects and sync with iCal
Create a variety of reports
Sync data between computers using DropBox
Export data in comma or tab separated format.
Backup data from within the program
Merge data from team members into one project for billing. Click here for details.
Sync data using Dropbox. Click here for details.
and more…
User Review:
"Great Value, easy to use" ★★★★★
Pros: I'm not computer savvy, and I figured this app out pretty quick. And my questions are answered promptly.
Cons: I'd like to be able to set it for six-minute chunks instead of five.
Summary: I checked several inexpensive billing apps for Mac and this was by far the best.
Download the latest version. (Updates are free to registered users unless otherwise indicated.)
Download
New customers: download it and try it for free for 20 days! This restriction will be removed once you purchase your registration code ($20).
Purchase $20
by